If you have an idea or a project you are working on, come to us, and we will help you figure out how to make it come to fruition. Below is a list of equipment we have available (and first make sure you sign up for a tour & training):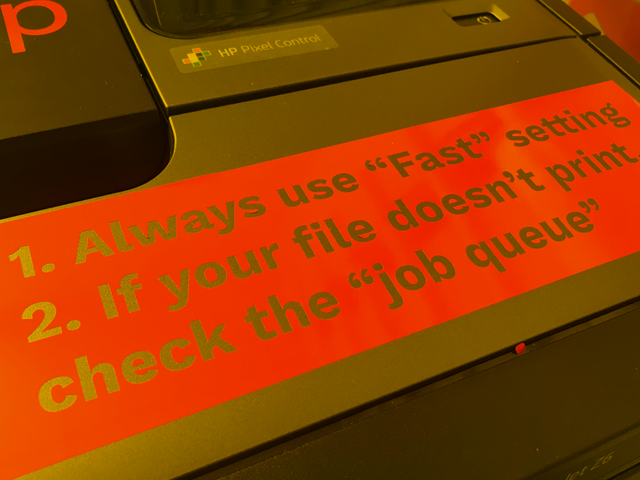 The Foundry Printing Studio has a variety of 2D printers, some of which can be accessed 24/7 and some of which require a Scout's assistance to use. Printing is free in the Foundry so we ask that all things printed here relate to the students' creative exploration. Fliers and posters printed in multiples should be printed at the Canon Copy Center (canoncopycenter@babson.edu).
Equipment
Large Format Printer
Color Laser Printer
We have a well equipped Woodshop at the Foundry with a wide array of powered and hand tools for use on wood and certain plastics. To gain general access to the Woodshop, you must schedule and complete a General Woodshop Training. Once you have completed the General Woodshop Training you can request training on individual Specialty Tools.
Digital Fabrication Studio
The Foundry Digital Fabrication Studio is equipped with a variety of 3D printers and laser cutters. To gain access to the digital fabrication studio, students must attend one or more of the machine trainings. Please note that training on the Ultimaker FDM Printer is a prerequisite for training on the Stratasys FDM Printer.
Equipment
Epilog Fusion Pro Laser Cutter (COMING SOON!)
If training on a Laser Cutter, remember to print and fill out this Laser Cutter Quiz before your training.
Textiles & Electronics Studio
The Foundry Textiles & Electronics Studio contains a range of equipment related to fashion, apparel and small electronics in addition to a variety of miscellaneous tools for creating buttons, stickers, signs and more. To gain access to the Textiles & Electronics Studio, students must attend one or more of the machine trainings.
Equipment
Digital Embroidery Machine
PFAFF Ultrasonic Welder (COMING SOON!)